E-Invitations, Group Gifts, Charitable Giving.
How it works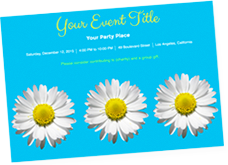 Step 1
Select custom invitations, rsvps, & thank you notes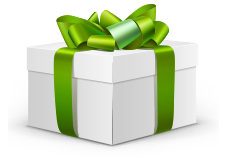 Step 2
Your guests contribute to both Group Gifts and COPE Service Dogs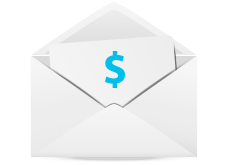 Step 3
After the party, we send you the money & the rest to COPE Service Dogs

HOW YOUR CONTRIBUTION HELPS:
COPE Service Dogs helps struggling secondary school students stay in high school until graduation by involving them in a two year service dog training program which is unique in Canada. The high school student handlers and their dogs work with elementary children to improve their literacy skills by encouraging struggling elementary readers to read to the dogs. Our service dogs-in-training along with their student handlers also brighten the days of seniors in hospitals and long term care facilities through our student-dog visitation program. Once our service dogs are fully trained, they go on to help people with serious mobility disabilities. Our service dogs help more than 40 people during the training period.
Testimonials:
"I am forever grateful for the COPE class because I feel so great about myself. It changed my life and showed me there's so much more to live for. When I look at my dog, Maple, I know I can do anything, because he shows me that he's always ready for the next command, for the next move in his life just like I am in mine. Nothing is going to stop me from the goals I've developed."
Student Graduate
"When I started COPE in October, I didn't know if it would be hard, awkward or anything like that. Turns out it was pretty sick, I mean in a cool way. COPE means a lot to me, it made me feel like I was doing something good, not just helping my dog, but helping others. I made friends I didn't expect to be friends with because we were all so different. I learned a lot about training and compatibility, and it changed the way I look at things. It made me feel more responsible and gave me a purpose. My relationship with my dog Buddy is amazing. I know when he needs attention and he knows when I do too. He always makes me proud of him whenever he does something right and I totally think he knows it makes me happy. It's just unexplainable how good I feel now because of COPE"
Student Graduate
"When I was picked for the COPE program I thought it was going to be a breeze and that I would fly through it! But when I got into the class I learned that it was going to take commitment and hard work to get this class completed. And through the nine months I learned how to control my frustration and anger by just focusing on the task at hand which I did and it got me through the nine months but I also brought those skills to my everyday life which has made my life so much better! So I just want to thank you for doing all this for us and teaching us valuable skills to carry on for the rest of our lives. Thank you."
Student Graduate
"This program has given me confidence in being with dogs and confidence in other things in my life. If it weren't for this program, I probably wouldn't be where I am now. Before I was in this program, I was always skipping class and hanging out with all the smokers and druggies. Now it is a different story. I go to all of my classes and I don't hang with them anymore because of this truly amazing program."
Graduate Student
"Through bonding and disciplined learning, we have documented an increase in self-esteem, improved focus on school work, work completion, an understanding of personal strength and respect for others along with a decrease in negative behaviours such as skipping, withdrawal and inappropriate outbursts. Further, these students, a year later are all still in school gaining credits with a goal of graduating."
High School Principal
"Words do not do justice to the energy, excitement and almost electric feeling in our school when the students and dogs are together. We need to share the wealth of our partnership with COPE with the rest of our province."
Elementary School Principal
"This program is one of the most important initiatives in motivating some of our most disengaged students I have experienced. When I observed your dogs with some of the students that I worked with personally I was amazed at the level of concentration and commitment they demonstrated. One particular student, who presents with a lack of motivation about most school activities,and who struggles with significant emotional attachment and trust issues, was completely focused on the importance of his role in training his dog. It was one of the few times I saw him smile."
High School Social Worker
"I am 29 and have progressive multiple sclerosis. COPE is a wonderful organization that changes lives - not just by getting a dog to assist you in daily activities, but also by helping you to be the person you know you can be. Disabilities can do more than physically change you, they mentally change who you are. I started to learn through COPE that even though my body wasn't willing I was still an able-bodied person that could make a difference. My family and friends were amazed at the difference in me. This is such an empowering feeling for me to know that I am still a functioning, participating member of society."
Client
"I am a 20 year old wheelchair bound individual who just received my new best friend from COPE. He has not only given me freedom I wouldn't have had otherwise, but has also shown me unconditional love through my trials and tribulations. He does various tasks for me including retrieving items off the floor, opening doors, turning on and off lights and even helping me in and out of bed. Aside from all the love my new companion gives me, he allows me to have self worth and dignity while inside my home and in public. I couldn't imagine my life without my COPE dog; he truly has given me a new "leash" on life!"
Client
Get your party started